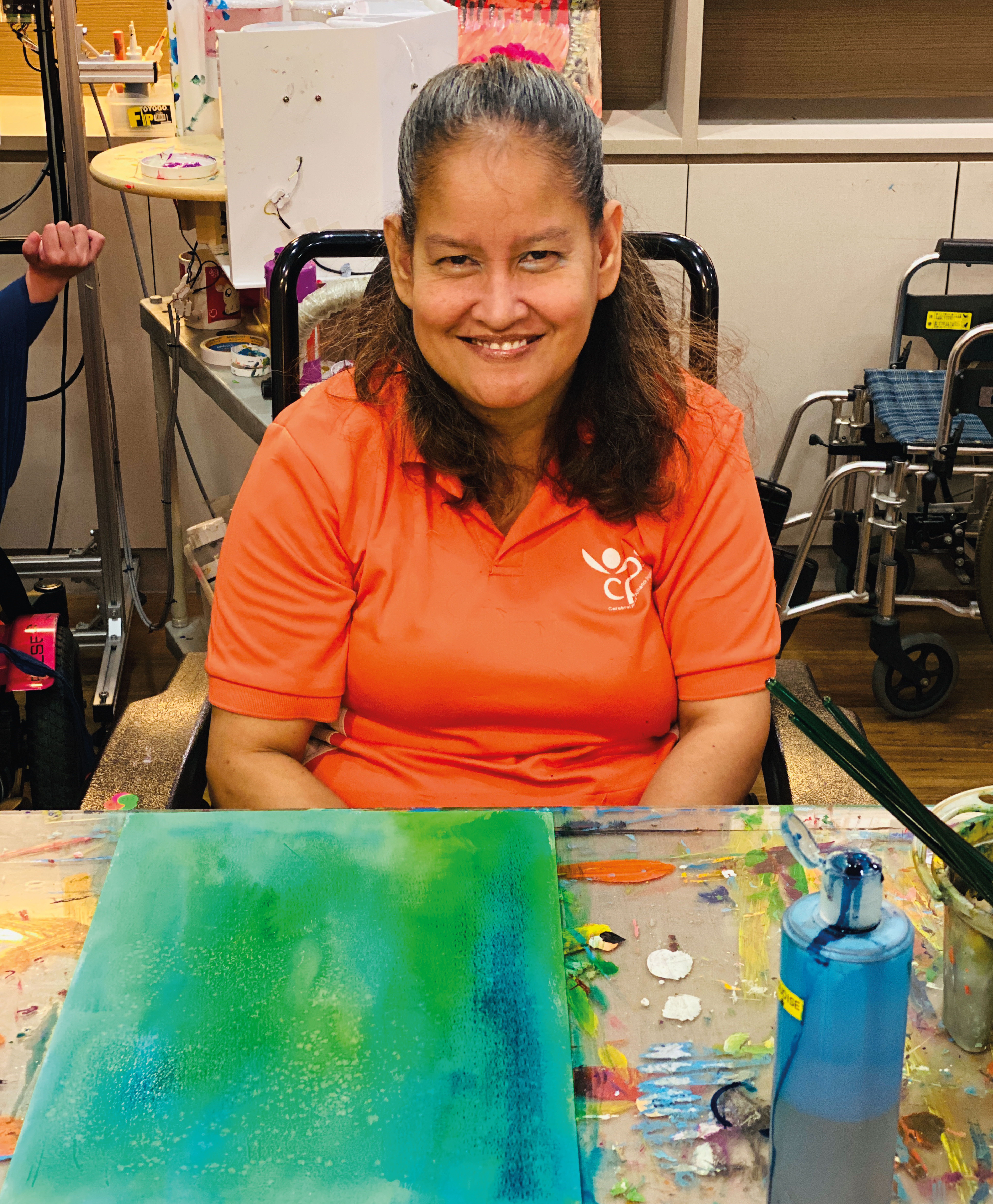 The Little Red Dot
Minah Binti Mohd, 51
Cerebral Palsy Alliance Singapore | i'mable
​
Minah's work is inspired by Singapore's reputation as a little red dot – the centrepiece of her artwork, a red circle, therefore refers to this nickname. Yet, as she believes, this fails to accurately reflect how Singapore has punched above its weight.
Her red circle is thus surrounded by things that make Singapore famous – attractions like the Merlion, Esplanade, Marina Bay Sands and more, the National Day fireworks, and the Vanda Miss Joaquim flower, referencing Singapore's status as a garden in a city. She envisions us stopping and celebrating all that uniquely represents Singapore, ranging from our manmade structures to our natural diversity. As she explains, "These renowned icons and attractions are what make Singapore stand out and make it one of the finest countries."
In this artwork, she makes use of stencils to create the background before using black markers to draw other objects to create a contrasting effect. Coupled with the sheer density of objects in the artwork, the artwork overwhelms the reader and fully showcases Singapore's everlasting vibrancy and vitality.
Minah has been at Cerebral Palsy Alliance Singapore (CPAS) for over 20 years, participating in art programmes and working for CPAS's inclusive workshop, where she performs tasks like folding boxes and pasting tags onto pens. She loves her job, being one of the longest serving workers there.
Her favourite place to visit, surprisingly, is not featured in her artwork. She loves visiting the Geylang Serai bazaar, especially in the lead-up to Hari Raya Puasa. After buying ingredients there, she goes to her sister's house and cooks together.
Apart from art, Minah also loves singing. She regularly belts out touching renditions of Chinese songs, a nod to her husband's favourite songs. "I sing these songs because he likes it," she simply remarks. With her heartwarming melodies, she leaves a deep impression on everyone she interacts with.