2022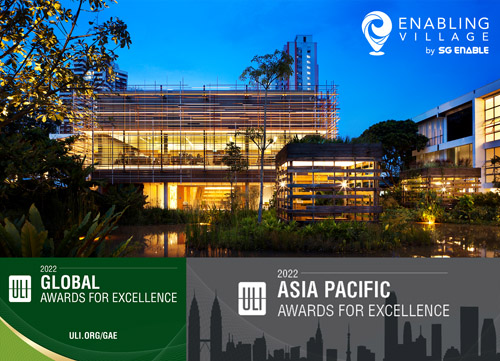 Enabling Village wins the 2022 Urban Land Institute Global and Asia Pacific Awards for Excellence
Enabling Village was one of six global winners and the only winner from Singapore in 2022. The Awards recognises projects representing the highest standard of achievement in the development industry.
The project demonstrates a successful model for integrating disability services and accessible design into an existing community.
- Jury Citation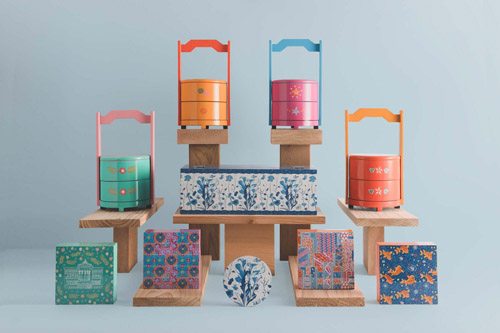 i'mable Collective Goes International: Milan Design Week and Istana State Gifts
Through i'mable Collective, makers with disabilities showcased their talents on a global platform as their high quality products were commissioned as Istana state gifts and displayed at Milan Design Week.
These artists now have an international platform to showcase their talents and the social service agencies have built their capabilities in creating a commercially viable product that carries a unique Singaporean identity.
- Ms Ku Geok Boon, CEO, SG Enable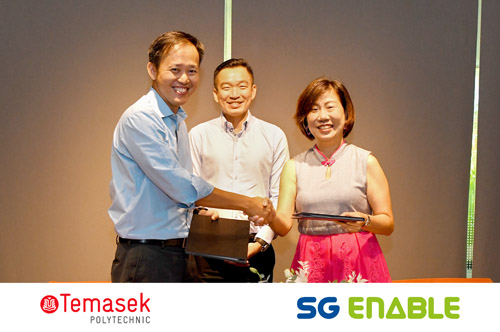 MOU Signing with Temasek Polytechnic and Expansion of Partnerships with IHLs
With this first MOU, we signified our expanded partnership with Institutes of Higher Learning (IHLs) in public education, capability development and disability-inclusive employment.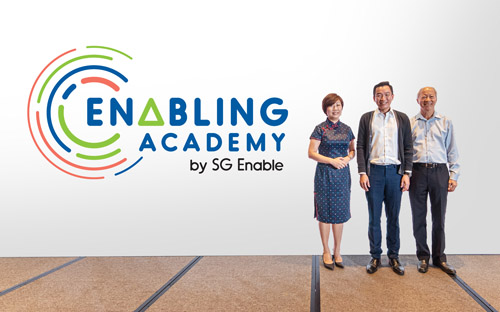 Launch of Enabling Academy
To provide quality learning opportunities for persons with disabilities, and enable their network of support through training, we launched Enabling Academy, a disability learning hub.
The Enabling Academy is the next bound in the partnership across the public, private and people sectors to enhance lifelong learning for persons with disabilities and will bring fresh ideas, innovations and capabilities into the disability training space.
- Mr Eric Chua, Parliamentary Secretary for Social and Family Development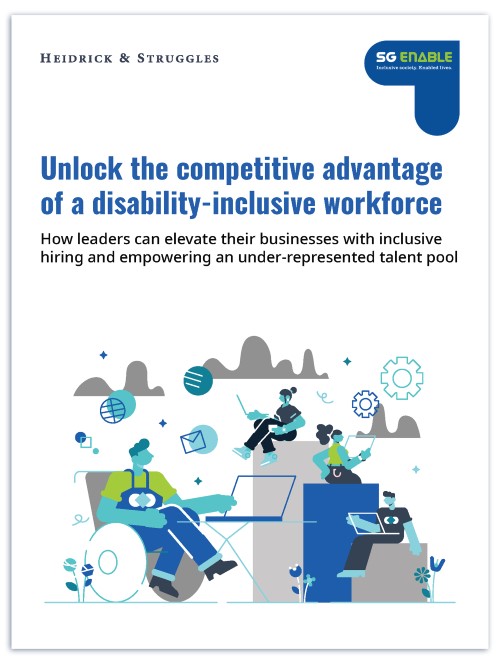 First Local Study on the Business Case for Disability-Inclusive Employment
We commissioned Heidrick & Struggles to conduct a landmark study on the perceptions of organisational performance and culture among employees at 30 disability-inclusive companies.
If we want to see a sustainable improvement in the employment outcomes of persons with disabilities, businesses must see it in their interest to hire such people – not out of charity, not out of social good alone, but because businesses truly believe in the benefits of disability-inclusive hiring.
- Deputy Prime Minister Lawrence Wong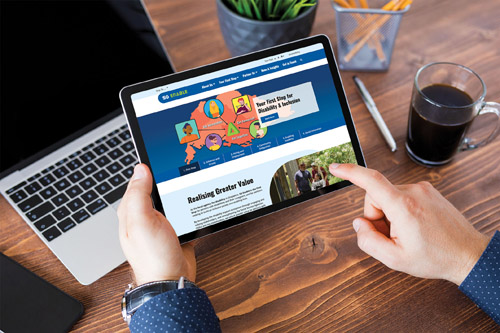 Launch of New Corporate Website
We revamped our corporate website to enable partners and organisations to Get Information more easily, Get Connected with us and Get Expertise.
2021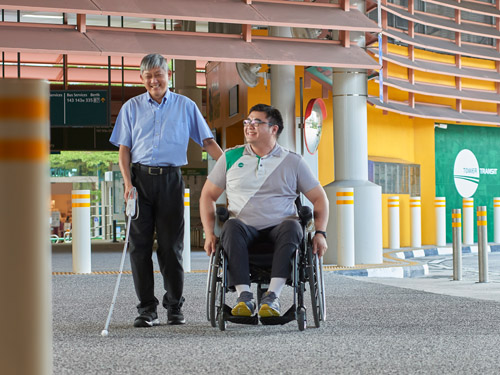 Creating a More Caring and Disability-Inclusive Commuting Culture
We partnered public transport agencies and operators to raise awareness about disability inclusion and equip front-line staff, as well as the public, on how to assist commuters with disabilities.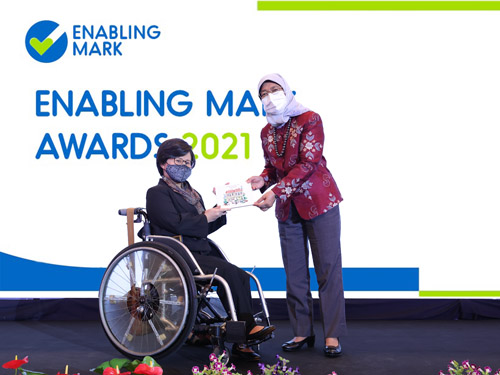 First Enabling Mark Awards Ceremony
At the inaugural Enabling Mark Awards, we recognised 100 organisations and individuals for their best practices, outcomes and commitment in disability-inclusive employment.
These employers have made remarkable efforts to tap on a wider talent pool of persons with disabilities. By focusing on their abilities, persons with disabilities can be gainfully employed, along with a sense of identity, purpose and social connectedness.
- President Halimah Yacob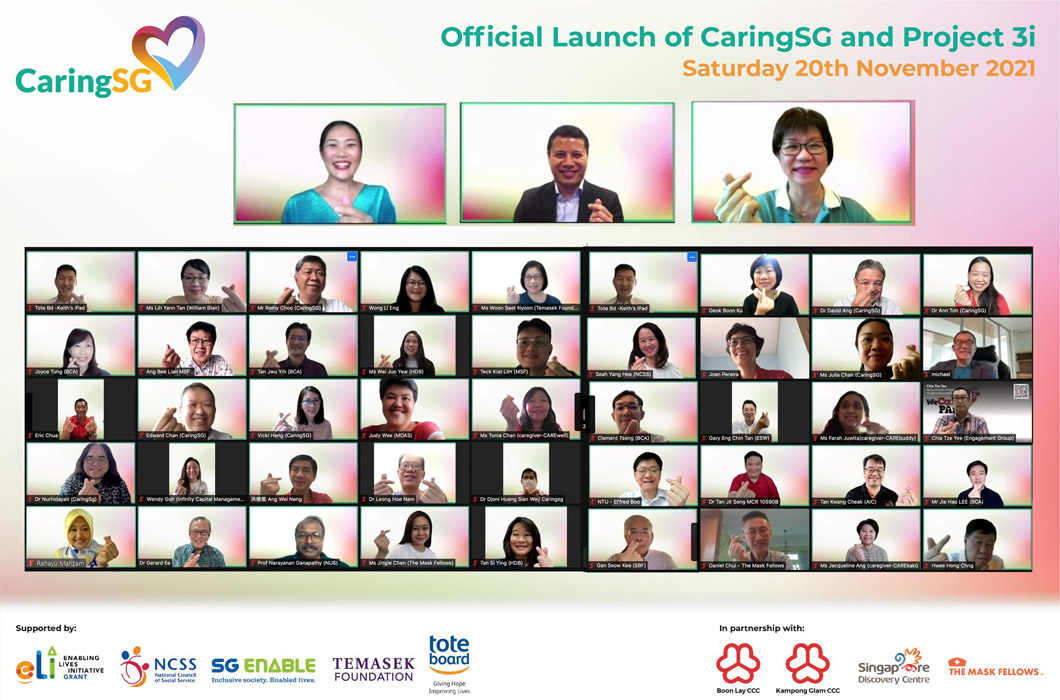 Formation of the SG Together Alliance for Action (AfA) for Caregivers of Persons with Disabilities
We formed this alliance with National Council of Social Service to co-create solutions to pressing issues faced by caregivers.
2020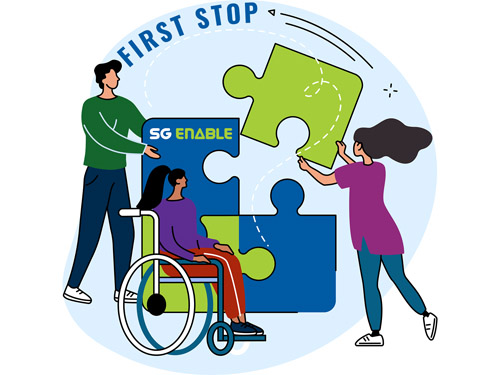 SG Enable Becomes the First Stop for Disability & Inclusion
From October 2020, disability functions from other government agencies were consolidated in SG Enable, and we became the Focal Agency and First Stop for disability and inclusion.
This new single-touchpoint structure is the next big step forward for the sector – to bring stakeholders under one umbrella to co-create and co-deliver services and solutions for persons with disabilities.
- Mr Sam Tan, Minister of State for Social and Family Development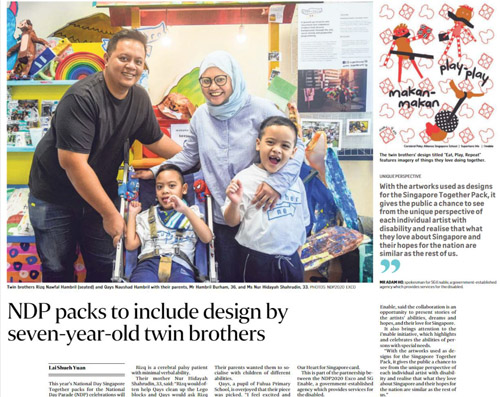 Artworks by Persons with Disabilities Featured on NDP Packs
We worked with partners to develop and curate a collection of works by artists with disabilities, and feature them on a national platform through NDP collaterals.
Every year, I see the fun pack designs and I always hoped they would give us a chance... (To be given this opportunity) means a lot to people with disabilities.
- Katy Lee, an artist with disability whose artwork was featured on an NDP Pack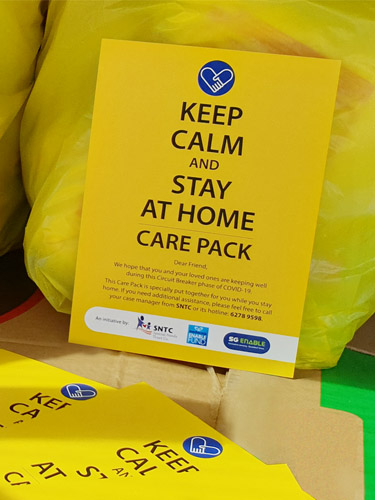 Supporting Persons with Disabilities During the Covid Pandemic
Through the C.A.R.E initiative, we supported persons with disabilities and their caregivers during the Covid-19 outbreak by delivering Cooked food and essentials, giving Assistance funds, and providing REspite care.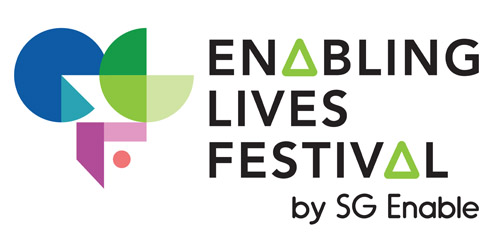 Inaugural Enabling Lives Festival
To commemorate Enabling Village's 5th Anniversary, and celebrate the International Day of Persons with Disabilities, we organised the first Enabling Lives Festival, held throughout the month of December.
Launch of $25 million Enabling Lives Initiative
We launched the $25 million Enabling Lives Initiative (ELI) with Tote Board to support social innovations and public education in the disability space.

Launch of Enabling Mark
To encourage organisations to hire inclusively and adopt best practices, we launched the Enabling Mark. This first-of-its-kind national-level accreditation benchmarks and recognises disability-inclusive employers.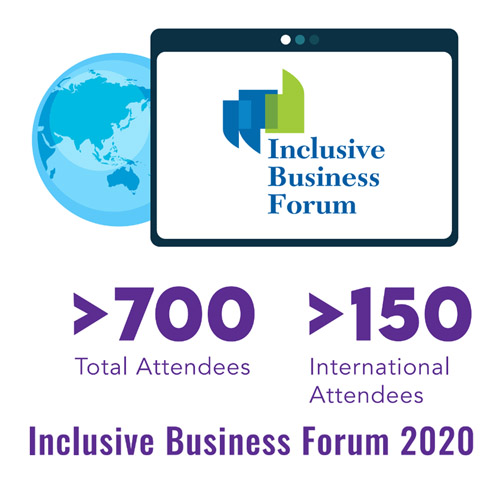 Inclusive Business Forum Goes Global
Due to the pandemic, we held this biennial forum virtually for the first time, allowing us to present it to overseas attendees and hit a record number of 700 attendees.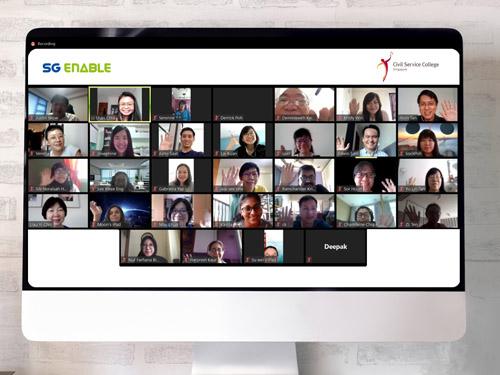 Making Government Services More Accessible
To improve the accessibility of government digital services, we worked with Civil Service College to build the capabilities of government agencies in providing more accessible digital services.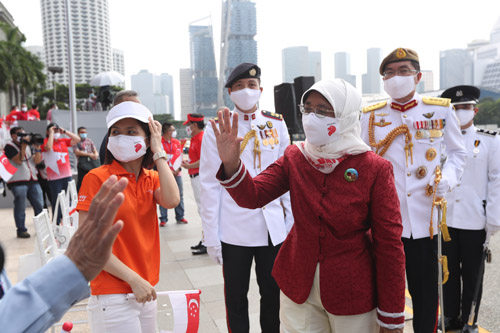 i'mable Collective's Launch of Bespoke Utama Collection
Our i'mable Collective launched the Utama Collection, a set of bespoke accessories designed for President Halimah Yacob. She wore these at the National Day Parade in 2020.
2019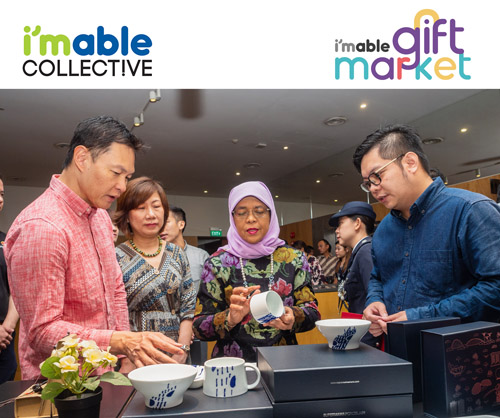 Inaugural i'mable Gift Market and Launch of i'mable Collective
We held our first i'mable Gift Market, and launched the i'mable Collective, which fosters multi-sectoral collaborations to develop a viable market for quality merchandise and services by persons with disabilities.
From designing artwork to making handicraft, many of the social service agencies and social enterprises already have existing infrastructure to develop persons with disabilities as creative talents. The Collective represents a strong commitment to create more opportunities for them to showcase their capabilities and empower them through collaboration and employment.
- Ms Jean Tan, i'mable Workgroup Co-Chair and SG Enable Board Member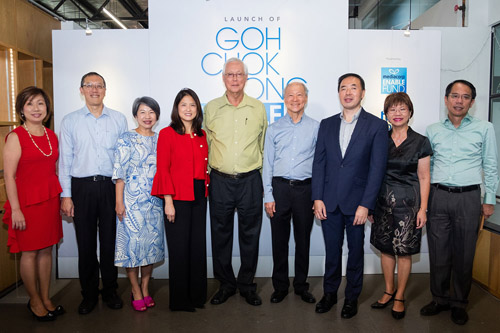 Launch of Goh Chok Tong Enable Awards
A new initiative under the Mediacorp Enable Fund, the Awards recognise the achievements of persons with disabilities, and motivate those with promise and potential to go the distance.
The Achievement and Promise awards are to celebrate the accomplishments of persons with disabilities, not only for the challenges they have overcome, but also for who they are and what they can contribute to Singapore if we maximise their potential.
- Emeritus Senior Minister Goh Chok Tong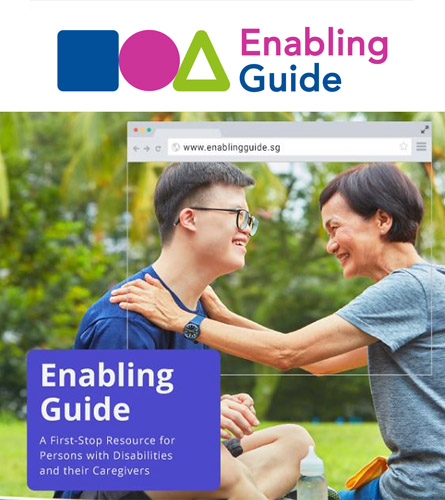 Launch of Enabling Guide
We launched Enabling Guide, a first-stop resource portal, to empower persons with disabilities and their caregivers to make informed decisions about service options across different life stages.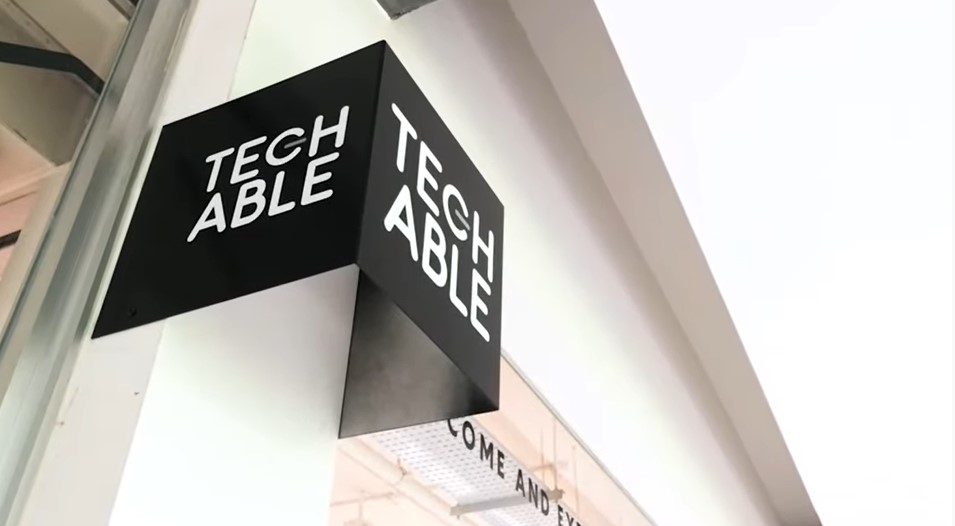 Refresh of Tech Able @ Enabling Village
To enhance the experience of persons with disabilities visiting Tech Able, we upgraded the space with new interactive zones, devices and accessibility features.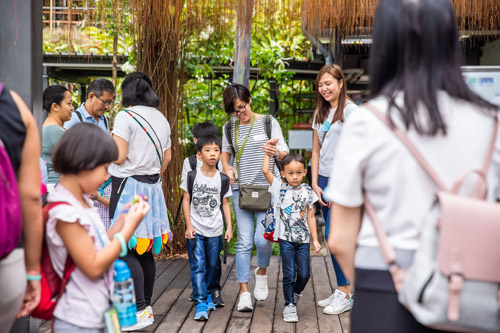 First Caregiver-led Care Carnival
By caregivers, for caregivers.
This inaugural Care Carnival was held at Enabling Village to connect and empower caregivers of children with special needs.
2018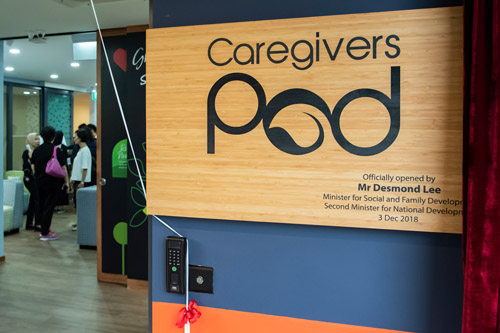 Launch of Caregivers Pod and Coalition of Partners for Caregiver Support
On the International Day of Persons with Disabilities, we opened the Caregivers Pod at Enabling Village. We also formed a caregiver support coalition with community partners earlier in the year.
As key touch points on the ground for persons with disabilities and their caregivers, you (as coalition partners) are in a good position to identify challenges and areas for collaboration. This coalition magnifies your individual efforts into a larger, collective impact.
- Mr Desmond Lee, Minister for Social and Family Development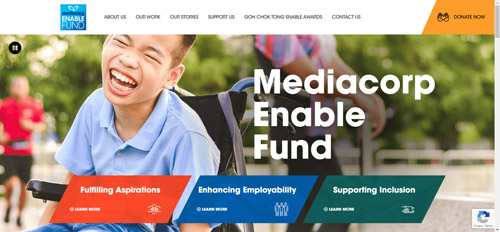 Launch of Mediacorp Enable Fund
The TODAY Enable Fund, launched in 2016, was renamed the Mediacorp Enable Fund, and awareness of disability issues was taken to an organisation-wide level at Mediacorp.
MEF helps persons with disabilities lead active and productive lives. Our vision is to change society's perception of them, from seeing only their disabilities to recognising their abilities, promise and achievements.
- Emeritus Senior Minister Goh Chok Tong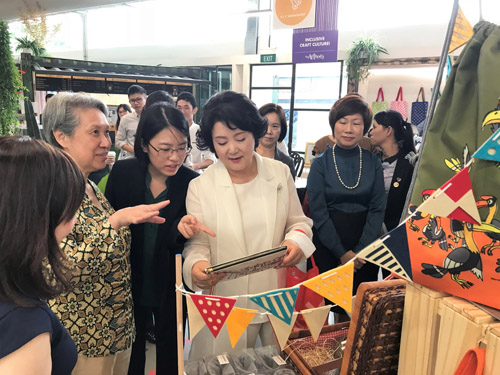 Korea's First Lady Visits Enabling Village
Mdm Ho Ching, wife of Singapore's Prime Minister, hosted Mdm Kim Jung-Sook, then First Lady of the Republic of Korea, at Enabling Village.
2016 - 2017
Hosting of International Journalists (2017)
Since 2017, we have partnered Singapore International Foundation to host regional journalists at Enabling Village.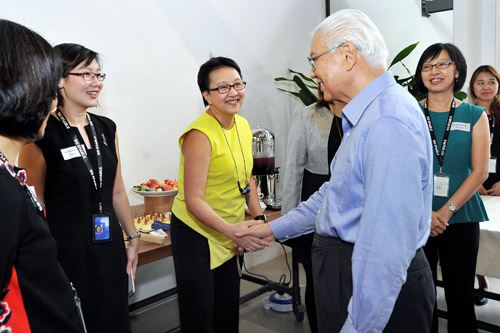 President Tony Tan Visits Enabling Village (2017)
We hosted President Tony Tan at Enabling Village, where he toured its premises and interacted with beneficiaries and staff.

Launch of New SG Enable Logo (2016)
With the launch of our new logo, we reaffirm our promise to shape a more inclusive Singapore where persons with disabilities are empowered.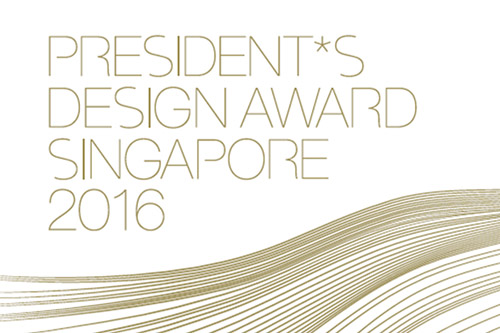 Enabling Village Wins Design of the Year (President*s Design Award 2016)
For its inclusive design and successful integration of persons with disabilities into the wider society, Enabling Village won the President*s Design Award, Singapore's most prestigious design accolade.
(Enabling Village) is the first of its kind, and represents a natural evolution of place-making, where the redesign of the space is driven by the needs of the users. It is a sensitively conceived social space that breaks down fences to integrate communities and transform lives.
- Jury Citation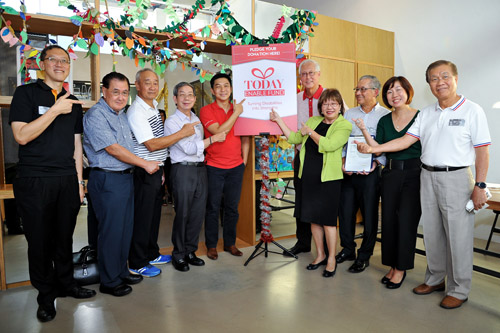 Launch of TODAY Enable Fund (2016)
The community fund aimed to promote greater empathy and disability inclusion by nurturing the talents and realising the aspirations of persons with disabilities.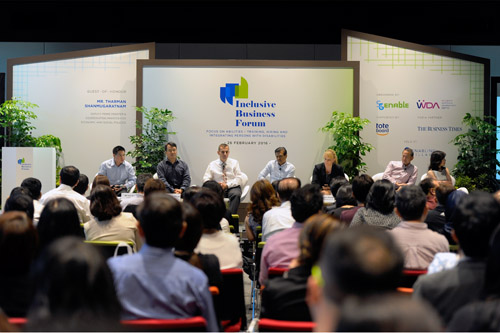 Inaugural Inclusive Business Forum (2016)
This inaugural forum was launched by then Deputy Prime Minister Tharman Shanmugaratnam. It showcased inclusive hiring journeys and was a platform for employers to learn and share best practices.
2013 - 2015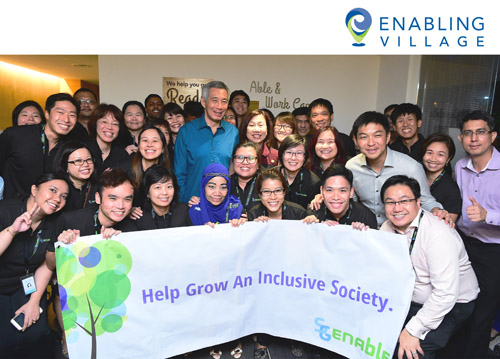 Opening of Enabling Village (2015)
Enabling Village was officially opened by Prime Minister Lee Hsien Loong. It is Singapore's first inclusive community space, with a strong focus on training and employment of persons with disabilities.
The Enabling Village will bring new opportunities for persons with disabilities.... (It) gives young people opportunities to train, to prepare for their work and to interact with the wider community through shared spaces and events.
- Prime Minister Lee Hsien Loong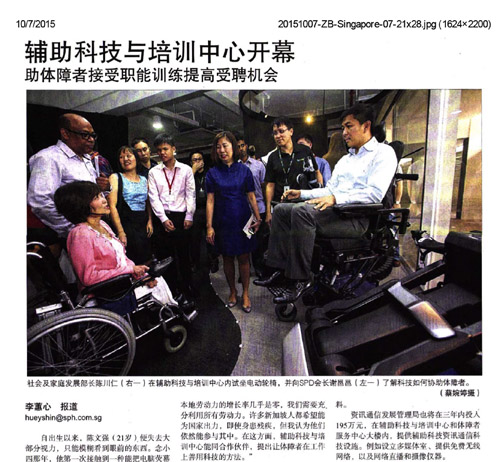 Opening of Tech Able (2015)
We launched Tech Able and jointly manage it with SPD. The first of its kind in Singapore, this centre in Enabling Village aims to promote the adoption of assistive technology.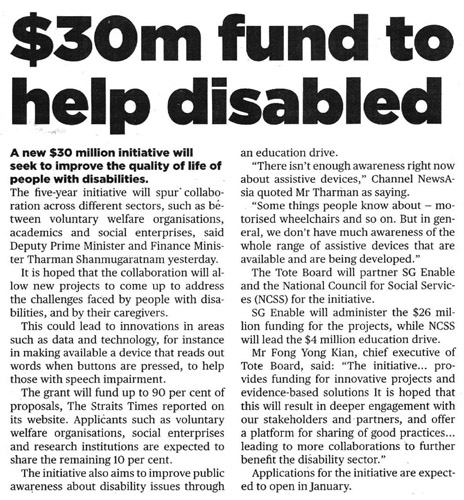 Launch of $30 Million Tote Board - Enabling Lives Initiative (2014)
This initiative, the first social innovation grant for disability, funded projects that create meaningful social impact for persons with disabilities and caregivers.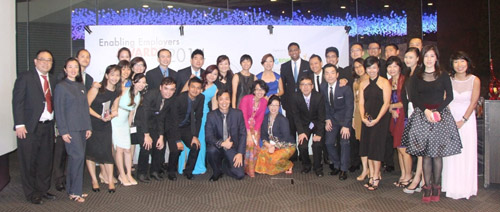 Recognising Inclusive Employers (2014)
At the Enabling Employers Awards, we recognised the contributions of more than 70 companies and individuals who demonstrated commitment towards hiring and integrating persons with disabilities in the workforce.

Establishment of SG Enable (2013)
SG Enable was set up by the Ministry of Social and Family Development as a dedicated agency to support persons with disabilities.
Our vision is a Singapore where persons with disabilities are integrated, empowered to reach their potential and become contributing members of our society. The Enabling Masterplan is our plan for the progressive realisation of this vision, and SG Enable will serve as a critical implementation vehicle for initiatives under the masterplan.
- Mr Chan Chun Sing, Minister for Social and Family Development